Discover more from Write Like a Mother
how to do a hard thing when you're already doing another hard thing
"How do you balance your needs as an artist with the needs of your children?"
A Conversation with Uju Asika
This month I had the pleasure of interviewing Uju Asika, mother of two and writer in a variety of genres, including Nigerian TV and a popular London blog. Her book, Bringing Up Race: How to Raise a Kind Child in a Prejudiced World publishes in the UK tomorrow. We talked about writing before and after kids, writing on three different continents, and writing a travel and activity blog during a pandemic.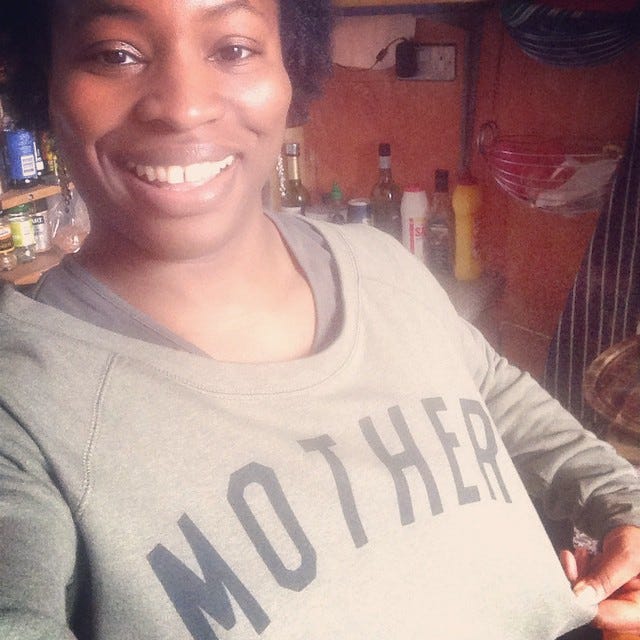 Uju Asika
Lives in: London, UK. A lovely part of town called Islington which is multicultural and family friendly.
Lives with: My husband Abiye and our two boys Ezra and Jed.
Favorite place to write: I write from my corner desk in the living room or on a laptop from my sofa. I love being at a cafe with a notebook though that's less appealing in a pandemic! Ideally, I'd be on a beach or overlooking the water with pen and paper in hand.
Favorite time of day to write: I'm a night owl and find myself hitting deadlines at odd hours. But I love a rare lazy Sunday by myself with my imagination and hours to write.
Weird Writing Rituals: None that I can think of. Cups of tea for fuel and warm hands. When my hands are cold, I get brain freeze!
What are you reading right now? Such a Fun Age by Kiley Reid.
What are you watching right now? Modern Family with the whole family. We were late to catch this and we're loving it.
Talk to me about the different kinds of writing you've done. I love hearing about career trajectories and the way talented people find and work in very different outlets. 
Gosh I've done all types of writing. I caught the word bug as a little girl and started writing stories, poems, and journaling was a big part of my life from childhood to early adulthood. My first published pieces were poems in an anthology of Black British writers. After graduating with an English degree, I moved into journalism covering the arts and doing lots of celebrity profiles, film reviews and other fun stuff. I did an MA in magazine journalism at NYU and wrote for digital outlets like salon.com and AOL City Guides. I started blogging after I had kids and have been doing that for 10 years. I've also been a TV screenwriter and script editor for M-Net which is a big South African broadcaster. And I've got a book coming out this month!
What was your writing life like before you had kids and how did it change once you became a parent?
Before I had children, I had a lot more mental space. After becoming a mum, my capacity to write and read seemed greatly diminished for a while. Kids take up so much of what you think about it's hard to remember life before them! On the other hand, my kids have been hugely inspiring for me creatively, especially with the parenting blog and now the book which is a guide for parents too.
You write the blog Babes About Town, seems very connected to your life as a mother – how did that come about? Has writing the blog changed how you parent? Has parenting changed how you write the blog? How has the blog changed over time? I would imagine a global pandemic is an interesting time to be writing a family blog!
The seeds for Babes About Town were sown after I had my first child. I had just moved back to London from Lagos and after years of living abroad, my social circle was all over the place. I felt a bit isolated with a new baby. I thought it would be awesome to have a website that would tell me what restaurants and theatre etc were still available to me. But it wasn't for another few years, after my second child was about to turn one, that I took the plunge and launched the blog. It's been a real adventure and has certainly motivated me to get out and about in London and beyond with my kids. The boys have grown with the blog and so has much of my audience. We started out for parents of under 5s and now it's aimed at families with kids ages 0-12. It's been tricky keeping it going with the pandemic. For a while I had a 'rebrand' to Babes About the House since we were stuck on lockdown.
Now you've written a book called Bringing Up Race: How to Raise a Kind Child in a Prejudiced World, which I am so excited about. Can you tell me a little bit about how you came to write it and what that process was like? 
It was a relative of mine who kept pushing me to write on this topic. I really didn't want to at first, since I wasn't sure it was right for me and race is such a huge, complex issue. She went as far as blasting out an email to agents to see if they'd like to read a proposal from me. When several expressed interest, I had to make a choice. I had to wrestle with Resistance (as Steve Pressfield calls it in The War of Art). The more I thought about it, I realised there was a space for someone writing not as a race academic but as one parent to another. It gave me an opportunity to tell my story growing up as a Black African girl in Britain (I was born in Nigeria) and then bringing up two Black boys in this society. I also share real, raw and sometimes humorous anecdotes from around 20 other parents of different ethnicities whom I interviewed for the book.
You have lived on three continents! Have you noticed different cultural attitudes toward writing and creative work? Parenting? Writing while parenting? 
For sure. Coming from Nigeria, as a general rule writing/creative work wasn't taken very seriously when I was growing up. We have a strong literary and creative tradition but not many Nigerian parents were begging their kids to become artists! The trope of parents persuading/forcing their children into more stable jobs like medicine, engineering, law etc still rings true. However, my parents were pretty liberal and they encouraged my creative pursuits, although they did steer me towards more practical work i.e. journalism. I started out thinking I would make a living through my poetry, which didn't quite pan out. Since the birth of a huge, makeshift film industry (Nollywood) and the global rise of Afrobeats music, there are a lot more opportunities for Nigerian creatives. 
I feel lucky to have been able to create for that market as I have a mission to tell richer, more diverse African stories. It's also wonderful to have lived in creative hubs like New York and London where you can connect with so many inspiring people. In terms of being a writer mama, I think the challenges are the same wherever you live. How do you balance your needs as an artist with the needs of your children? It's a constant juggle and I do feel like mothers could do with a lot more support in that area.
What is a typical writing day like for you these days? 
Right now, the boys have just gone back to school. Suddenly I have a lot more time and space to myself, but mostly I've been focused on pre-launch activities for the book. On a typical day I'm up with the kids, getting them ready for school. Then I catch up on admin and check my emails before I dive into my work day. There's usually a variety of tasks that need taking care of e.g. blogging, book publicity, client management and social media. I've been trying to block time between 10am to 1pm for actual writing. My goal is to become one of those writers who sticks to a 3 to 4 hour writing slot and then has the rest of the day to unwind. But I'm not all that disciplined. I've always been a project juggler and a deadline surfer. The good thing is my boys are used to me working around them. I just tune them out with noise-cancelling headphones!
Are you working on anything new right now? What do you dream of doing in the future?
I'm still creating content online and I'm working on a course for writers. I have a couple of book ideas and I will certainly write more books. I'm also playing with some formats for TV and a story that could work well as a TV series or even a play. I really enjoy this early stage of exploration and seeing where a story takes you. I've never written for theatre so that would be an interesting challenge. I also would love to write a musical one day. I'm a sucker for musicals.
Thank you, Uju!
While it's unlikely that we Americans are going to be allowed across the pond anytime soon, with hope in my heart I urge you to check out Babes About Town, Uju's multiple award-nominated family, lifestyle and travel blog aimed at parents with young kids in London and beyond and, of course, to preorder her book here or here.